Top-3 Kings With Most to Prove Next Season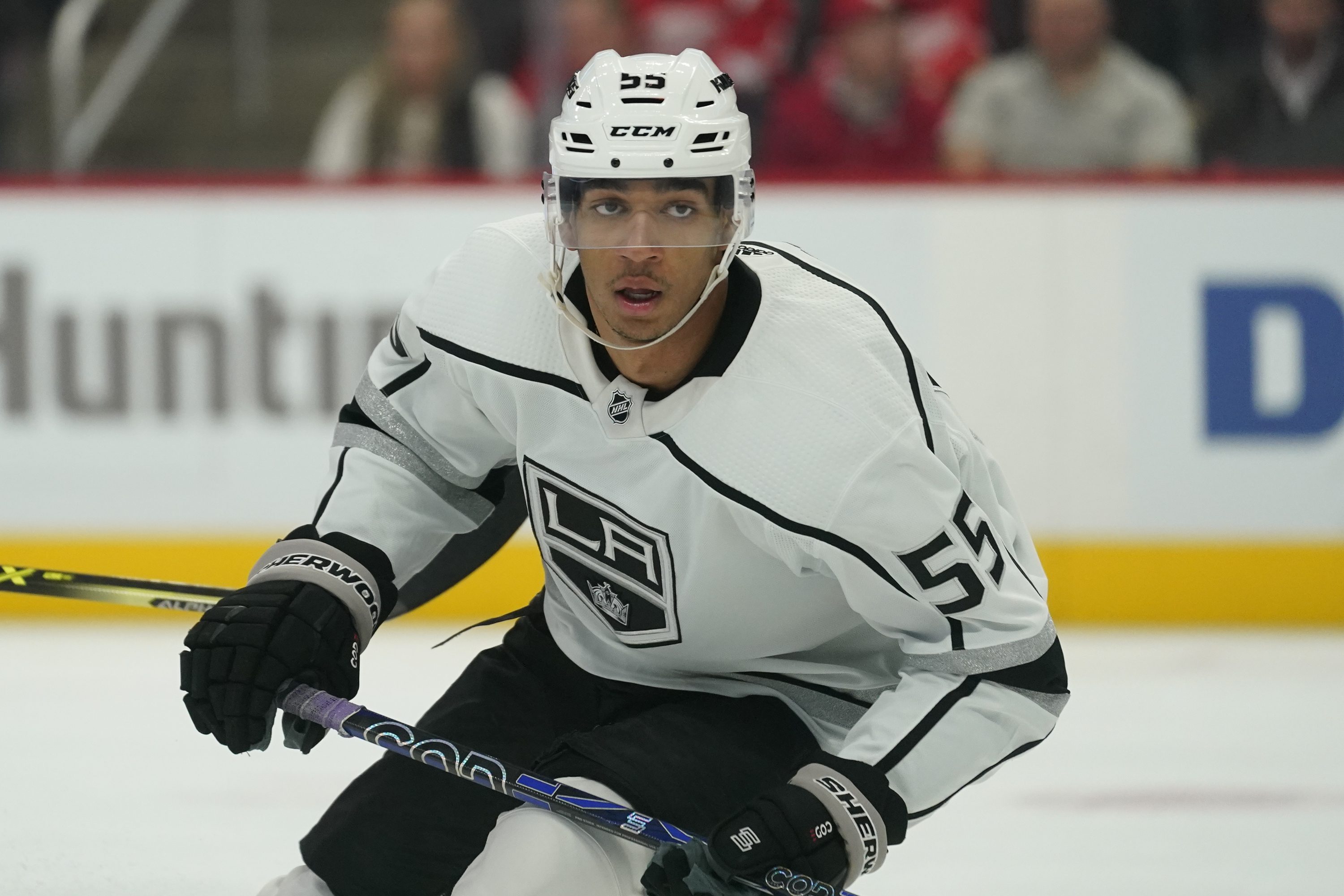 After two straight first-round exits, the Los Angeles Kings have to find a way to reach the next level.
And with limited cap space and a bloated roster, the Kings have to rely on internal solutions to break out of the first round.
Rob Blake made this clear in his exit interview.
A lot of the growth has to come from young players taking the next step, but there are some more veteran players that need to find a new level. Or return to an old level they've lost.
The Kings need a few more players to do what Gabe Vilardi did last season and take a huge step in the right direction. And they have a few prime candidates for that kind of improvement.
Quinton Byfield:
There are few players in the league, let alone the Kings organization, with more to prove than Quinton Byfield next season.
Heading into the third year of his entry-level contract, Byfield simply has to improve next season. He doesn't need to explode and become the number one center he was projected to be but needs to show more signs that he'll get there.
Byfield did improve last season. He saw significant time on the first line with Anze Kopitar and Adrian Kempe and helped them become a dominant first line.
His board work and forechecking were excellent in the second half of the season and he showed flashes of the high-end skill that saw him drafted second overall. But the raw production isn't where it needs to be.
Three goals and 19 assists just won't cut it. I can cherry-pick stats and tell you that Byfield was third on the team in assists per 60 minutes, had one of the best goals for percentages on the team and had more high-danger passes per 60 than anyone not named Kevin Fiala. To try and convince you that he was actually really good last season.
But none of those stats matter until he produces goals and assists and a high clip.
Now, that's not to say fans shouldn't be encouraged by Byfield's underlying numbers. They absolutely should be. I've compared Byfield's 2022-23 campaign to Jack Hughes' 2020-21 season in the past. A season where fantastic underlying numbers didn't match raw production which was followed up by a breakout season.
And while I don't expect a point-per-game season from Byfield next season, I do expect those underlying numbers to translate into more points.
Byfield needs to be more assertive — another summer of physical growth will help there — and more confident on the puck. There's been a timidness to his game in the last two seasons that he needs to break out of. He has the tools to take over shifts and we've seen him do it in patches.
That just needs to become more consistent. He also needs to work on his shot this summer. A lot. Shooting at 4.1% and scoring 7.6 goals below expected can't happen again.
Whether he's a first-line winger or third-line center, a breakout for Byfield would be massive for the Kings.
Trevor Moore:
Trevor Moore's contract extension in December wasn't massive but was big enough to increase expectations for the Thousand Oaks native. And he didn't deliver on them last season.
Yes, injuries played a massive part in his struggles last season. And I don't think anyone within the Kings organization is or should be, worried about his ability to bounce back next season.
However, he needs to improve. He scored at a 40-point pace last season, which does not justify his $4.2 million price tag, even with his added intangibles.
Moore's never going to be a big-time producer, but he needs to be closer to the 50-point player he was in the 2021-22 season.
His role on this team moving forward will be interesting. He's been ever-present on the Kings' second line, usually with Phil Danault and Viktor Arvidsson, but there is going to be a lot of competition for spots next season.
Players like Vilardi, Arthur Kaliyev and even Kevin Fiala are all gunning for a spot in the top six. A slow camp from Moore could see him fall down the lineup pretty quickly.
The nice thing about Moore is his versatility though. If he did move down the lineup, he'd excel in a third-line role, especially on a skilled third-line like the Kings'.
Heading into year one of a $21 million extension, Moore needs to prove he's worth that money.
Cal Petersen:
Surely Blake was just posturing when he said that Cal Petersen needs to be an NHL goalie next season right? There's no way the Kings go into next season with a Petersen/Pheonix Copley tandem right?
Well, if they do, Petersen has more to prove than anyone on the roster. Last season was an unmitigated disaster for him. He was supposed to take the number one spot from Jonathan Quick and instead played most of the season in the AHL where he didn't blow anyone away. All in year one of a $15 million extension.
Of course, this entire section can be thrown away in a few weeks if Joonas Korpisalo re-signs and it's clear that Koprisalo-Copley is going to be the goalie tandem next season. However, until that happens Petersen is slotted on the Kings' roster.
Petersen has talent, we've seen in at the AHL level and in flashes at the NHL level in the past. So, I don't think all hope is lost for him. But he looks like someone that has lost all confidence in their abilities.
And as a goalie, that's a death sentence and something that's very difficult to recover. An improved defense in front of Petersen to start next season might help, but it's all on him.
I have a hard time confidently saying Petersen can be a serviceable NHL goalie next season, but I wouldn't say it's impossible.
A bounce-back season would also make Petersen a shoo-in for the Kings' Masterson Trophy nomination.