Kings Need to Set Realistic Expectations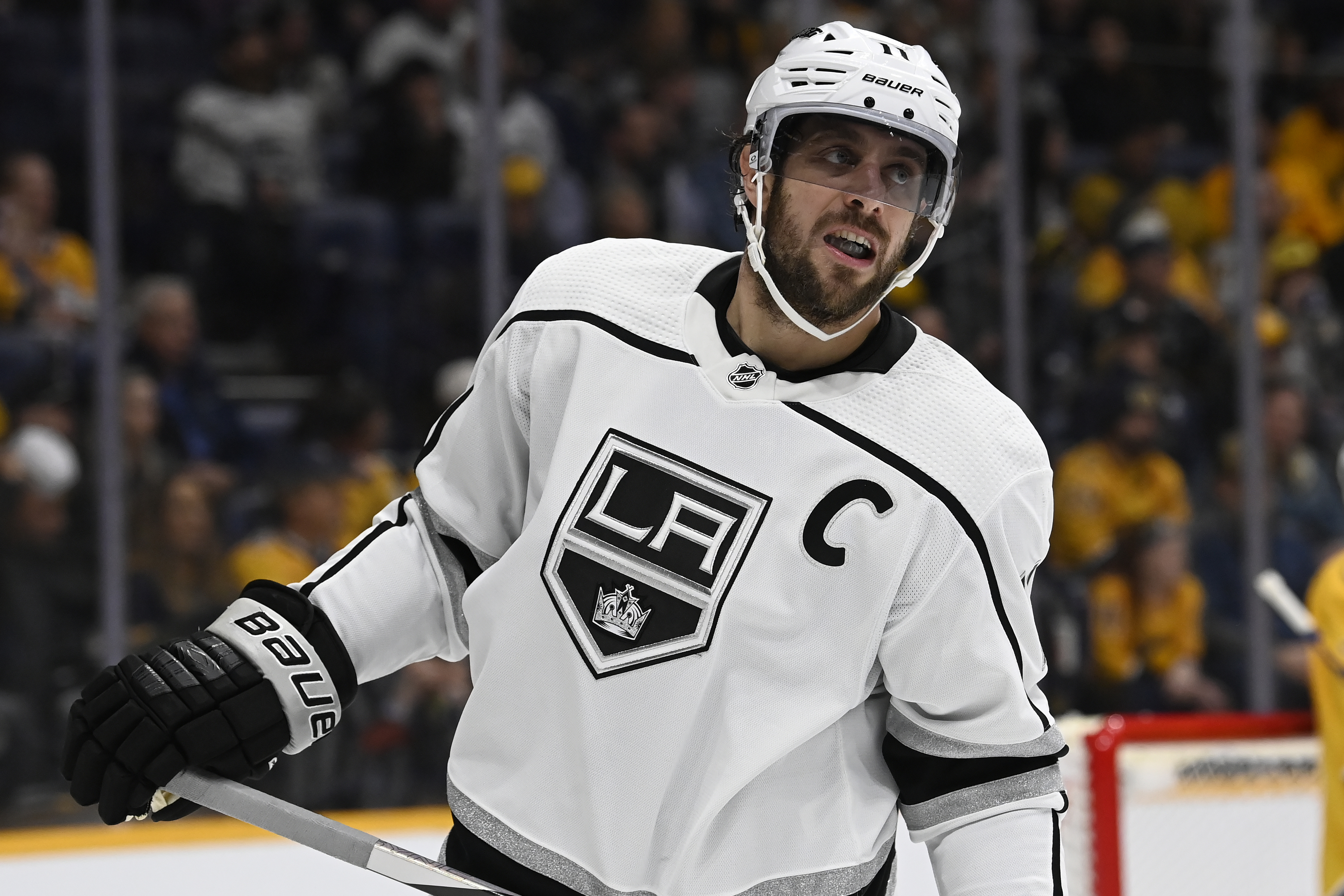 Two seasons ago, the Los Angeles Kings defied expectations and made the playoffs for the first time since 2017-18. This taste of the postseason caused the Kings to fully move out of rebuild mode and into a win-now mentality.
They traded a first-round pick and a high-end prospect for Kevin Fiala in the offseason and then moved another first-round pick for help at last season's deadline.
Now, linked with players like Pierre Luc-Dubois, it's clear that the Kings are trying to make one more run while Anze Kopitar and Drew Doughty are playing at a high level.
But that might not be a realistic expectation given their current roster.
How the Kings Stack Up:
Every Cup champion looks a little different and has something that makes them unique, but there are a few constants.
Looking at the elite teams in the league, those who made it to the Conference Finals, we can see how the Kings compare player to player.
Of course, this comes with the caveat that we're discussing how teams look on paper and hockey is played on the ice. But it's still a valuable exercise to compare players.
Elite Number-One Center:
Here's the first area where I think the Kings fall just short. Kopitar is still a fantastic player, there's no doubt about it. But I'd also classify him as an average 1C right now.
And that isn't meant as a knock on Kopitar. Being average amongst the best centers in the league still means you're a great player.
There are 10-12 centers in the league you can comfortably call better than Kopitar right now, making him a second-tier 1C.
And while that's still good, it does begin to fall away when you look at the teams who made deep runs this year.
Looking at the Conference Finals, Jack Eichel, Aleksander Barkov and Roope Hintz are all better than Kopitar and there's an argument for Sebastian Aho as well.
So, while the Kings still have a very good 1C, they fall short of the elite teams around the league in this department.
Elite Number-One Defenseman:
You can copy and paste a lot of what I said about Kopitar and apply it to Drew Doughty for this section.
Still a very good number-one defenseman, but he's a tier below the truly elite around the league.
Using the same criteria as we did for Kopitar, looking at the conference finals matchup. Doughty is a step below players like Miro Heiskanen, Jacob Slavin, Brandon Montour — if we're looking solely at last season — and probably just behind Alex Pietrangelo.
Add in players like Cale Makar, Quinn Hughes and Adam Fox and Doughty quickly starts sliding down the list of top defensemen in the league.
Despite the Kings riding Doughty like he's still one of the league's top defensemen, playing him 26 minutes a night, he isn't that player anymore.
That's fine, he's still a fantastic player, but when looking at the truly elite teams, those who make series challenges for the Cup. The Kings fall behind in this department as well.
Elite Wingers:
This is another department where I think the Kings are right there but just fall short.
The addition of Fiala and the emergence of Adrian Kempe go a long way to helping them compete in this area. But I'd consider them second-tier stars as well.
Fiala is very close and I think there's a real argument that he's in the top tier. But looking at those elite teams; he isn't Mark Stone, isn't Jason Robertson or Matthew Tkachuk.
To Fiala's credit, he's better than anyone on the Carolina Hurricanes.
As a goalscorer, Kempe is right up there with the very best — his 41 goals placed him 10th in the league — and he made big strides in his overall game last season. But he's still a step below the league's very best.
So, the Kings once again fall into the category of having very good players. But players who aren't truly elite in these areas.
In Net:
With just one NHL goalie signed right now, the Kings have a problem in net. But we'll assume they either re-sign Joonas Korpisalo or bring in a similar-caliber goalie to take his spot.
This is the one area I think the Kings actually can compete. Mainly because the Vegas Golden Knights and Colorado Avalanche have proved that you don't need an elite goalie to win a Cup.
You need a good goalie, and ideally, a goalie that gets hot at the right time, but a good team in front of them and a solid structure is more important than an elite goalie.
I don't think Adin Hill or Darcy Kuemper are better goalies than Korpisalo as an example.
Depth:
This is where the Kings thought they had everyone beaten last season. Their quality in depth was supposed to carry them through the postseason but failed to do so.
Phil Danault is a high-end 2C, and Viktor Arvidsson is as good a compliment piece as you'll find in the league. But what we saw in the playoffs was a lack of depth near the bottom of the lineup.
The Kings' fourth line and third pair were abused by Edmonton and were the team's Achilles heel.
Part of the problem is having young players who don't really fit a fourth-line role — a topic for a future article — trying to match up with more traditional bottom-six forwards. A matchup they can't handle physically, and the unique circumstance they faced with Leon Draisaitl in round one.
But I also think the Kings run into the problem of being very average once again. Players like Trevor Moore, Alex Iafallo, Blake Lizotte and Carl Grundstrom are all good players, but none of them are real needle movers in their given roles.
None of them are a liability, but you don't look at them and think, "Yeah, they're going to win a matchup for the Kings."
In a lot of ways, the Kings are painfully average when compared to the league's truly elite teams.
Expectations for Next Season & Reason For Optimism:
Right now, I think the expectation that the Kings should be legit Cup contenders, and should make moves accordingly, is unrealistic.
They don't have the high-end firepower or the depth to make a true run at the Cup.
That being said, things can change and there are a few reasons to be optimistic about the Kings next season.
If the young players, Quinton Byfield, Gabe Vilardi, Rasmus Kupari, Arthur Kaliyev, etc. can all take a step forward in their development, the Kings begin to have depth that can win a matchup.
But that's a lot of ifs. And moves that improve the team now often block those players from taking the next step. Kupari and Kaliyev are likely fourth-liners again next season and one of Byfield or Vilardi, possibly both, will be third-liners next season.
Without significant improvement from young players or a blockbuster move that would require trading one of Byfield, Vilardi or Brandt Clarke. I don't see the Kings moving the needle and becoming true Cup contenders next season.
The expectation should be another playoff berth and a trip to the second round but not much beyond that. Anything more is an overachievement and anything less is a disappointment.